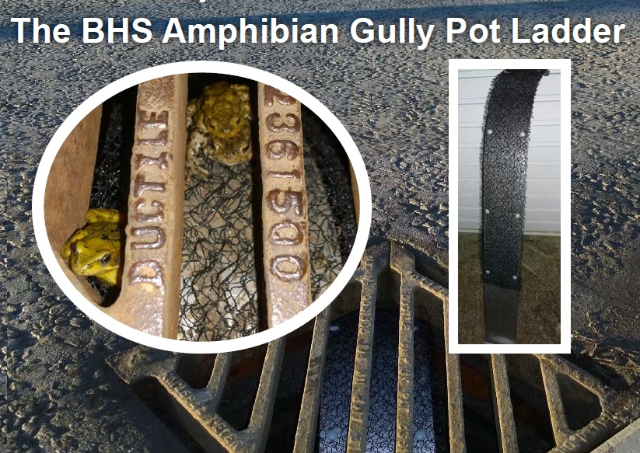 The British Herpetological Society has announced production of 'Amphibian Gullypot Ladders'. Finally an elegant way to prevent avoidable amphibian deaths has come onto the market, and the BHS is welcoming pre-orders from local authorities, conservation NGOs, ecological consultancies, and anyone else who might be interested.
For many years now, it is well known that amphibians (toads, frogs and newts) fall in to roadside gullypots, where they become trapped with no chance of escape. Once trapped, they are doomed from drowning, starvation and exhaustion. There has been no cost-effective solution to mitigate this problem, until now.
The BHS has built upon work in the Netherlands and UK, and engineered a unique solution. BHS Secretary Trevor Rose said, "We offer retrofit BHS Amphibian Gullypot Ladders, which can be installed in gullypots easily and cheaply, without the need for modifications to the gullypots, and with no adverse effect on drainage. In our experience, there is unlikely to be any objection from local authorities."
Studies and trials carried out in Angus, Scotland, have shown BHS Amphibian Gullypot Ladders are a practical and simple solution, and may save more than 90% of amphibians and other small animals that inadvertently fall into them. Local amphibian populations can suffer unsustainable losses of breeding adults and young through gullypot deaths, which can impact on the future viability of the population, leading to sharp declines, and even local extinction.
Gullypot deaths are a particular concern where great crested newts are present nearby and affected by gullypot mortality, as there are legal ramifications if such deaths are avoidable. Also, common toad populations are considered to be declining throughout the UK, and road mortality is already a known contributing factor.
These innovative BHS Amphibian Gullypot Ladders cost only £15 each (incl. P&P), and come with fitting instructions, guidelines for monitoring, and advice for gullypot maintenance. Once installed, they provide a means of escape for amphibians, but also assist local authorities to meet biodiversity regulatory obligations.
The BHS is currently inviting interested parties to place pre-orders now, for production and delivery over the winter, ready for installation in early 2016. Please contact Trevor Rose on 07778 830192 or This email address is being protected from spambots. You need JavaScript enabled to view it..
To download a flyer: click here
.