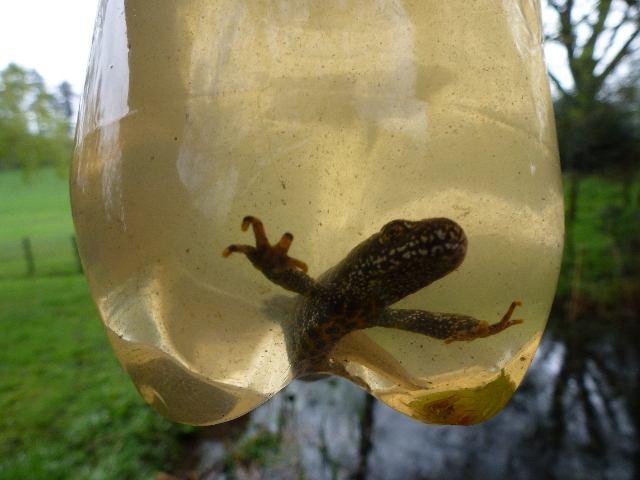 So here we are with yet another case of unexpected great crested newts (UXGCNs) turning up on a development site, far too late in the day, and leaving all concerned bemused and wondering where to point the finger.
This time it's a lorry-park development by the Crisp Maltings Group at Great Ryburgh in Norfolk. Local campaigners against the development have sought a judicial review against the statutory bodies involved in granting planning permission, according to an Eastern Daily Press article
on 14 January 2013.
For GCNs or any wildlife issue to turn up so late in the day, it is frustrating to everyone but the campaigners. But who's fault is it? Should the developer have known there were GCNs in the area? Well it depends if they hired ecologists to furnish them with enough information on such things; and it's up to the local authority, and Natural England where relevant, to vet ecological reports accompanying planning applications. In this case there were certainly ecologists involved, but to what extent is not clear.
Were the ecologists at fault? It is impossible to say without all the background information. It seems that a Phase 2 ecological survey was performed in 2010 by a Norfolk-based consultancy that included a reptile survey among other things, but apparently not a GCN survey. Their reptile survey seems to have been executed well enough; performed in April, with 80 refugia in place for a week, before seven survey visits.
What we don't know is if the Phase 2 ecologists were briefed not to include a GCN survey, for example because a Phase 1 ecological report had ruled them out. Phase 1 and Phase 2 surveys are often done by different outfits. Someone presumably did a Phase 1 survey though, and it should've picked up potential GCN issues.
That leaves the statutory consultees - North Norfolk District Council (NNDC) and Natural England. It is up to these authorities to ensure all planning applications are properly vetted for ecological due diligence; but it is also not a surprise when a local authority does not pick up on shortcomings such as incomplete ecological surveys, because of workload and shortages of appropriate staff. Natural England should at least be picking up on any planning cases likely to involve European-protected species. However, as they have to take ecological reports at face value to a certain extent, both these authorities could feasibly let cases like the Great Ryburgh one slip through.
The full picture has yet to surface on this case, but one crucial consideration will be whether or not a background data search was performed. The results would form a material consideration in all parties' cases. If a data search came up negative for GCNs, it might have precluded a GCN survey (though in a pond-rich county like Norfolk, it wouldn't be wise to rule them so easily). If the search came up positive for GCNs within several kilometres of the development (say 5km in a potentially under-recorded county like Norfolk?), then there would be no excuse not to survey for GCNs, and a Phase 1 assessment should have said so. Having said that, it is conceivable for a GCN survey of ponds to fail to pick up presence in recent dry springs; and terrestrial surveys are relatively uncommon.
One thing that would help prevent such cases is if data searches were a statutory requirement of all planning applications over a certain size, i.e bigger than a back-garden house extension. A statutory data search wouldn't be a panacaea, but it would save the day in many cases, by throwing up hidden information.
Unfortunately, data searches are not required by law; and when an ecological consultancy includes one in a Phase 1 quote, they are making themselves less competitive. At £200-300, a data search can add 50% cost to a two-day Phase 1 quote. I'm pretty sure that CGO Ecology has lost out on some Phase 1 jobs for exactly this reason.
As an after-thought, there is one final possibility for GCNs turning up unexpectedly on or near a development site: deliberate introduction. Of course, we are not in any position at present to say which of the above scenarios is true.
Comment by Chris Gleed-Owen.